Protective Mat
A ground mat perfect for high traffic areas such as under swings and at the foot of slides. These mats keep the ground in check for year-round clean play!
The Octotile Lawn mat is porus and allows grass to grow through the protective matting while protecting the soil from wear and tear.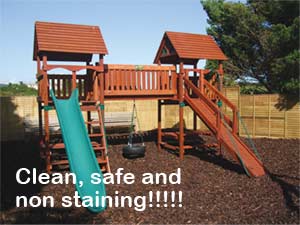 Play Bark

& Bark Mulch
Backyard Adventures Play Bark is clean, economical & certificated for use in children's play areas. Aesthetically, it also lends wonderfully to our play equipment.

We offer a service, whereby we can install a colour-matched, 'sleeper-type' wooden box frame around our play-sets and disperse a suitable depth of bark over a protective sheath creating a contained play-zone for your children
.